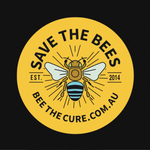 Save the Bees Australia's aim is to unite like-minded people and raise awareness of the importance of bees and the plight that bees face. Simon and his team are passionate advocates and educators who work with the community to change policy and personal action to support bee populations. Save the Bees Australia evolved from saving and rehousing problematic bee infestations to a social enterprise advocating for organic farming, nutrition, pollution, environment, education, wisdom, permaculture and love.
no bees = no life. Save the Bees Australia aims to empower others to create change in their world. Bees and humanity face a major challenge from insecticides, herbicides, industrial-scale monoculture food farming and habitat fragmentation. Together we can tackle these issues and Save the Bees. 
Elvie & Leo will donate 20% of all Bee sales for a 2 week period.  We are dedicated to support Simon and his Save the Bees foundation in their amazing plight.