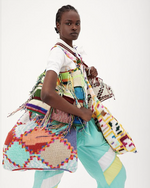 Among Equals merges Art & Community with Fashion.
Among Equals, a non-for-profit brand, dedicated to supporting weavers and their families in Papua New Guinea.  The ancient practise of Bilum weaving, merges art & community, honouring the weavers traditions whilst highlighting their exceptional & consciously crafted work.  
Every Among Equals Bilim is unique, woven from hand rolled fibres from native plants or unravelled yarns pulled from Jumpers.
One Bilum benefits 10 to 15 people.  It is not about charity, you are giving business to the community.