Everything for love is a large scale neon installation by British artist Tracey Emin. Since 1995, Emin has produced neon artworks based on her own...
A commitment to lush, bold colours, refined technique and slick presentation grounds Rennie's practice in the present, confidently affirming the ongoing presence and self-determination of Aboriginal identity.
SS22 ELVIE ZODIAC
ELVIE SS21 Collection is a play on the Zodiac Circle. Zodiacs are a way of expressing ideas about personality, life, and relationships.
PICK YOUR ZODIAC SIGN & WE WILL MAKE TO ORDER. x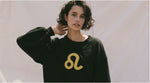 Free Shipping, try on at home & return what you don't want.