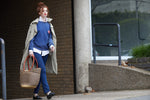 Motion & Working in the Urban Streets
It's all very well to get a model into the studio and for you guys to recognise a great piece. But to see it in motion and working in the Urban Streets is another thing all together.
Autumnal vibrant colours styled back with blacks and indigo is a great look. These sweats can be dressed with a heel, boot or basic trainer. 
From gym to a stool at you favourite wine bar.
The humble sweater has taken on a new position. Where and when can't it be worn.
 I just can't think of anywhere. Enjoy finding out.
With love from Polly Cadden.
Style director @ Create Style Direct